From our Chief Medical Officer
Dr. Paul Aitken | March 18, 2021
COVID-19
Be safe and be well.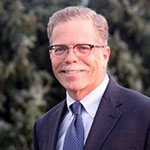 Vaccines for COVID-19 are rolling out. (Visit vaccinefinder.org to find one near you.) This is good news. This is also a good time to remind ourselves that we still need to take important steps to protect our health and well-being.
Be safe. Continue to take precautions to protect yourself, and others, from exposure to the virus. Some of the most effective ways to be safe are to wear a mask, stay 6 feet apart, avoid crowds and limit interactions with individuals not living in your household. If you have flu-like symptoms, contact your health care provider and find out how to get a COVID test. See GEHA's COVID-19 webpage for medical plan benefits supporting testing, screening, treatment and vaccination. More information about how to be safe and vaccines can be found on the CDC website.
Be well. Meet with your primary care physician, dentist and specialists to stay on track with preventive screenings, vaccinations, checkups and other non-emergency care. Providers are taking extra precautions to make certain these visits are done in a safe environment. If you have concerns about in-person visits, medical plan members can take advantage of GEHA's telehealth benefit. In addition to non-emergency medical conditions, telehealth can also provide guidance for behavioral health needs.
As we continue to navigate these uncharted waters, I encourage you to eat well, stay active and maintain your healthy routines. If you have questions about your health benefits or want to speak with someone directly about COVID-19, GEHA has several ways for you to get in touch:
Thank you for being a GEHA member. Be safe and be well,
Dr. Paul Aitken



GEHA Chief Medical Officer
*Available for GEHA medical plan members only.
This is a brief description of the features of GEHA's medical plans. Please read the Plan's Federal brochure (RI 71-018, RI 71-014 or RI 71-006), available at geha.com/PlanBrochure. All benefits are subject to the definitions, limitations, and exclusions set forth in the Federal brochure.
The information contained herein is for informational and educational purposes only. This information is not a substitute for professional medical advice and if you have questions regarding a medical condition, regimen, or treatment you should always seek the advice of a qualified health care provider. Never disregard or delay seeking medical advice from a qualified medical professional because of information you have read herein.