GEHA works with Medicare A & B
Combine Medicare coverage and GEHA coverage for even better protection.
---
With a GEHA medical plan to supplement your Medicare coverage, a sudden hospital stay, a prolonged illness or a major surgical procedure won't overwhelm your budget. GEHA offers five unique medical plan options, each with comprehensive coverage that coordinates with Medicare.
When you have GEHA and Medicare, most of your claims can be filed electronically by GEHA Express. For information on electronic claims filing, call GEHA Express at 800.282.4342
2022 monthly rates
These rates do not apply to all enrollees. If you are in a special enrollment category, please refer to the
FEHB Program website
or contact the agency or Tribal Employer that maintains your health benefits enrollment.
Self Only
monthly
Self Plus One
monthly
Self and Family
monthly
Elevate
$105.61
$242.90
$295.71
HDHP
$136.95
$294.44
$361.83
Standard Option
$135.77
$291.92
$357.17
Elevate Plus
$171.44
$395.44
$413.04
High Option
$227.20
$530.31
$654.87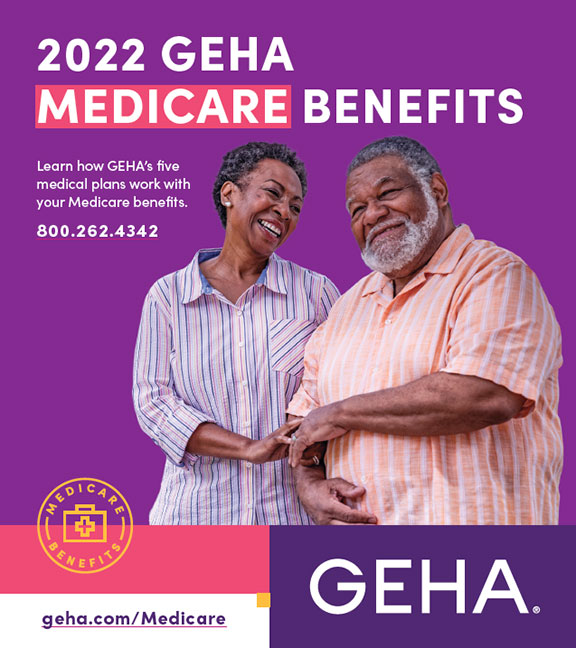 2022 Medicare Benefits Guide
---
Review this guide with all our plans, including rates, costs, extra services, and side-by-side comparisons
CONTACT GEHA CUSTOMER CARE DIRECTLY
800.821.6136
CONTACT THE SOCIAL SECURITY ADMINISTRATION DIRECTLY
OR
800.772.1213