Answers to your COVID questions about children
Immunization
Children's health
COVID-19
Frequently asked questions from the CDC's resources for parents.
As the COVID-19 pandemic enters a second spring season, some answers don't seem as clear-cut as they did a year ago. This is especially true when children enter the equation. Here are some common questions and guidelines from the Centers for Disease Control you may want to follow. Remember that your municipal and school district rules supersede this advice. If these questions don't address your situation or want additional information, the CDC has more resources for parents.
My child has COVID symptoms. Should I keep him/her home from summer activities?
Children with symptoms of an infectious disease (including COVID) should be kept home, but how long the child is kept home depends on if the symptoms lead to COVID infection. Your child should be tested for COVID if he or she shows symptoms and has been within six feet for more than 15 minutes of someone with a confirmed COVID case, or are in an environment with increased likelihood for exposure. If your child does have COVID, your school should have policies for returning to school. The CDC also has recommendations for home isolation.
Does my child need to wear a mask?
Everyone two years and older should wear a mask. Masks protect not only you, but others around you, in the case that you may be unknowingly infected. Masks may not be acceptable in all situations. The CDC has more information about how masks help the community and what to do if they cannot be worn. Wearing a mask is not a substitute for washing hands frequently and staying six feet apart.
Can my child hang out with friends?
The math is simple on this: the more people your child interacts with and the longer the interaction, the higher the risk of spreading COVID-19. At the same time, socializing and playing with friends can be a healthy way for a child to cope with the stress of the pandemic and connect with others. In dealing with these dueling factors, the CDC encourages limiting your child's interaction with additional children or adults outside of day care or school to decrease risk.
The lowest risk interactions are virtual playdates over the phone or on video chats. Occasional, outdoor get-togethers with family or friends who also practice active prevention measures and staying six feet apart are a medium risk. The highest risk interactions are indoor playdates in close proximity with people who do not practice preventive measures.
Is it safe for my child to spend time with older adults and people with underlying medical conditions?
Think about staying away from grandparents, older adults or family members with an increased risk while there are a high number of COVID-19 cases in your community. The CDC defines older adults as those age 65 or older. If your child does visit someone that meets these criteria, keep your child at least six feet away and wear a mask. This is especially necessary if your child is attending school or frequently playing with friends.
How can my family maintain safety for a child with a chronic medical issue?
The best way to slow the spread of COVID-19 is crucial for everyone: wash your hands frequently, wear a mask and maintain a distance of six feet from others. For households with a member at increased risk, consider finding a back-up caregiver, in case you or the regular caregiver get sick. You may also want to plan for what to do if any direct support professionals become ill.
The CDC has a guide for caring for at-risk family members in the pandemic.
Is it safe for me to take my child in for well-child visits?
Yes. The CDC has advised doctors to identify children who may have missed well-child visits or vaccinations and schedule in-person appointments. Well-child visits help prevent your child from developing serious diseases, provide a chance to make sure your child is getting the appropriate care to stay healthy and provide an opportunity for the doctor to talk with the parents and child about nutrition, immunizations, safety and other age-appropriate topics.
Here is some advice for having a safe trip to the doctor's office.
If you have forgotten what vaccines your child received, your doctor can guide you through the process and get you back on schedule. A chart of the recommended vaccination timeline is shown below (or may be downloaded as a PDF).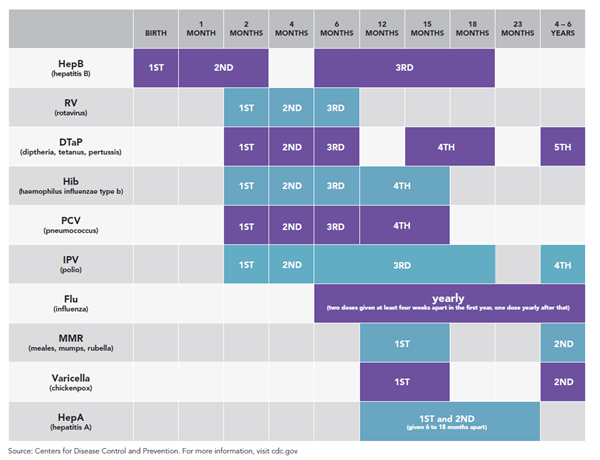 Watch a video about the importance of getting your children immunized from the CDC.
---
Sources:
"Information for Pediatric Healthcare Providers." cdc.gov, Centers for Disease Control and Prevention, 30 December, 2020.
"COVID-19: Frequently Asked Questions." cdc.gov, Centers for Disease Control and Prevention, 2 April, 2021.
"Help Stop the Spread of COVID-19 in Children." cdc.gov, Centers for Disease Control and Prevention, 17 September, 2020.
"COVID-19: Daily Activities and Going Out." cdc.gov, Centers for Disease Control and Prevention, 3 February, 2021.