GEHA expands Executive Leadership Team with addition of John Brown as Chief People Officer
Company news
News
What's New
Kansas City, MO, native and seasoned human resources, operations and insurance executive joins to help shape the future of GEHA's workforce.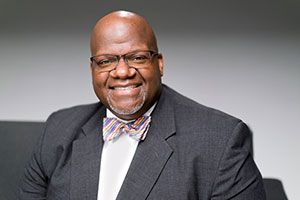 LEE'S SUMMIT, Mo. (January 13, 2022) — GEHA (Government Employees Health Association, Inc., pronounced G.E.H.A.) announced the appointment of John Brown as Chief People Officer (CPO), effective January 3, 2022. Joining GEHA's executive team, Brown will play a strategic role in leading and scaling GEHA's people and culture capabilities to support the company's growth.
A proven human resources and operations executive with nearly 30 years of leadership experience, Brown has a track record of navigating successful change management efforts, transformational management initiatives and driving a people-oriented strategy.
"John is bringing his exceptional talents to GEHA at a pivotal moment," said Art Nizza, GEHA President and Chief Executive Officer. "As the company continues to evolve and grow, John's mix of HR and operational leadership experience creates a unique opportunity to reimagine how people and culture positively impact our members and business. Leveraging his change management experience will help position GEHA to tackle our goals in 2022 and beyond."
As CPO, Brown will lead all aspects of GEHA's human resources strategy, including total rewards, talent acquisition, change management, leadership development, learning and organizational development and its commitment to diversity, equity and inclusion.
"Coming back to my roots in Kansas City is a true pleasure," said Brown, GEHA Chief People Officer. "I admire GEHA's member-driven approach to empower subscribers to be healthy and well. And I am looking forward to helping further evolve and strengthen this culture while scaling for this next stage of growth."
Brown most recently served as the Senior Vice President and Chief Human Resources Officer at Blue Cross Blue Shield Louisiana, where he led the company through pivotal times of growth and transformation.
At Blue Cross Blue Shield Louisiana, Brown was responsible for delivering strategic diversity, equity and inclusion initiatives for the company, including developing and launching a three-year succession planning process to increase the representation of women and people of color in leadership roles. Under Brown's leadership, the company earned Best Places to Work status in Baton Rouge and several diversity, equity and inclusion honors, including the 2021 Diversity Impact Award, the Excellence in Diversity Award from Greater Baton Rouge and #7 on DiversityInc's Top Regional List.
Prior to joining Blue Cross Blue Shield Louisiana, Brown served as the Segment Vice President – Retail Service Operations for Humana, where he was recognized as a thought leader in the field of associate engagement, recruiting and retention.
Brown is currently a board member for 100 Black Men of Metropolitan Baton Rouge and Capital Area United Way. He earned a Bachelor of Science in electronics engineering from DeVry Institute of Technology in Kansas City, MO.
---
ABOUT GEHA
GEHA (Government Employees Health Association, Inc., pronounced G.E.H.A.), founded in 1937, is a nonprofit member association and the largest dental and second largest medical benefits provider of federal employees, exclusively serving 2 million current employees and retirees, military retirees and their families. GEHA's mission, to empower members to be healthy and well, is demonstrated through its focus on innovation as well as providing members with access to one of the largest medical provider networks nationwide.
Headquartered in Lee's Summit, Missouri, GEHA is one of the largest employers in the Kansas City metro area. For more information, visit geha.com.
Contacts
Cristi Allen (GEHA) | 816-434-4472
Lisa Ketteler (GEHA) | 816-434-2508