GEHA names Dr. John A. Johnson as Chief Medical Officer
Company news
News
A distinguished physician, health care leader and colonel in the U.S. Army Reserves Medical Corps; Johnson will drive clinical and quality transformation to improve members' health and well-being.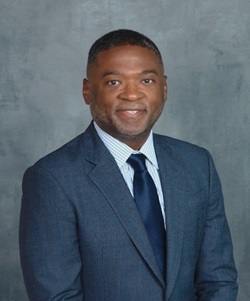 LEE'S SUMMIT, Mo. (Nov. 2, 2022) – GEHA (Government Employees Health Association, Inc., pronounced G.E.H.A.), today announced the appointment of Dr. John A. Johnson, M.D., M.B.A, as Chief Medical Officer (CMO). In this role, Johnson will oversee all clinical programs, focusing on quality improvement and enhancing culturally relevant services and solutions inherent to GEHA's efforts to evolve its member experience. To accomplish these goals, Johnson is focused on connecting members with their ultimate health care goals through an evidence-based approach to delivering integrated care.
Through a comprehensive approach to care, Dr. Johnson, his team and GEHA provide safe, effective and member-centric care tailored to meet the needs of public servants. All health plans offered by GEHA, including the most popular high deductible health plan (HDHP) among federal employees, are designed to contain members' out-of-pocket costs while simultaneously incentivizing healthy behaviors combined with innovative preventive care.
"With a distinguished career as a physician and leadership roles within both the managed care industry and the U.S. Army Reserves Medical Corps, Dr. Johnson is ideally qualified to lead our clinical and quality improvement strategies as we strive to help our nation's public servants live healthier and happier lives," said GEHA President & CEO Arthur A. Nizza, DSW. "His extensive experience with patients as a physician and his track record of success as a managed care leader, gives him a far-reaching view of the health care sector that is directly applicable to our work. As a nonprofit organization, we are resolute in our efforts to safeguard our members' well-being and to contain the costs associated with their health care – endeavors that will benefit greatly from John's perspective and abilities."
With more than two decades of diverse experience in the medical field, Johnson brings a wealth of expertise to GEHA. Johnson joins GEHA from Cardinal Innovations Healthcare, where he served as CMO. Previously, he also oversaw all clinical operations as CMO at Molina Healthcare of Ohio and at Virginia Premier Health Plan. Earlier in his managed care career, he served as the senior medical director for WellCare of Georgia, where he led the initiative to secure the state's managed Medicaid contract. Johnson also oversaw care management for the State Health Benefit Plan while serving as medical director at Anthem Blue Cross Blue Shield of Georgia.
As a doctor specializing in internal medicine, Johnson owned and operated a practice in Atlanta where he treated patients with acute and chronic conditions, ultimately growing it to 10,000 patients and developing a celebrated program to treat those with diabetes. Possessing insights gained in his efforts to improve community health, he later sold his practice to pursue a career in managed care.
"As a 25-year Army Reserve Veteran, I resonate with the unique needs of our members and am dedicated to enhancing the member experience. There is a continued and growing need to help members understand their complex medical needs and conditions; and GEHA provides the resources, tools and education for the ultimate goal of self-empowerment," said Johnson. "Our members are best served when we understand the communities in which they live and can leverage an evidence-based approach to care that ensures everything we do is focused on meeting those unique needs."
Johnson graduated from Seton Hall University and received his medical degree from Rutgers New Jersey Medical School. Board certified in internal medicine and a fellow of the American College of Physicians, he completed his residency at Emory University in Atlanta. Johnson later earned a master's in business administration with a focus on health care management from Emory's School of Business.
John also serves as a Colonel in the United States Army Reserves Medical Corps with 25 years of service. In addition, he is the president of the Emory University Medical Alumni Board, is the president-elect of the Medical Association of Atlanta and is vice-president of the board of directors for Leadership Empowerment Project, a nonprofit that helps African American men excel in their first years in college.
ABOUT GEHA
GEHA (Government Employees Health Association, Inc., pronounced G.E.H.A.) is a nonprofit member association that provides medical and dental benefits to more than 2 million federal employees and retirees, military retirees and their families. Offering one of the largest medical and dental benefit provider networks available to federal employees in the United States, GEHA empowers health and wellness by meeting its members where they are, when they need care.
Headquartered in Lee's Summit, Missouri, with approximately 1,600 employees, GEHA is committed to its members and their communities. GEHA has gained distinctive civic recognition by being named the 2022 Corporate Partner of the Year for the Mid-America LGBT Chamber of Commerce, the 2022 Nonprofit Champion of Diversity for the Greater Kansas City Chamber of Commerce and the 2022 Truly the Best Business of the Year for Lee's Summit (Missouri) Chamber of Commerce. In 2022, GEHA signed the CEO Action Pledge, furthering its commitment to diversity, equity and inclusion.
Since 2021, GEHA has held exclusive naming rights to GEHA Field at Arrowhead Stadium, home to the Kansas City Chiefs.
To learn more, follow us on Facebook, LinkedIn, Twitter and Instagram, and visit geha.com.
CONTACTS
Cristi Allen (GEHA) | 816-434-4472
Lisa Ketteler (GEHA) | 816-434-2508