GEHA Names Raj Vavilala as Chief Sales, Marketing and Product Officer
Company news
News
A proven leader with extensive experience in the health care arena, Vavilala will oversee GEHA's product portfolio in addition to leading all sales and marketing programs.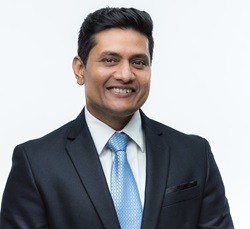 LEE'S SUMMIT, Mo. (Dec. 28, 2022)
– GEHA (Government Employees Health Association, Inc., pronounced G.E.H.A.), today announced the appointment of Raj Vavilala as Chief Sales, Marketing and Product Officer. In his new role, Vavilala will seek to fuel subscriber growth at GEHA while maintaining focus on member retention through oversight of the development, implementation and administration of GEHA's product portfolio and all sales, marketing and communications efforts, as well as the company's customer experience initiatives.
As Chief Sales, Marketing and Product Officer, Vavilala will focus his efforts on enabling members and their families to achieve better health through meaningful products, actionable communication and simplified experiences.
"Effectively aligning our sales, marketing and communications efforts to educate the federal employee marketplace on the value of our medical and dental benefit plans and products is essential to reinforce our relentless efforts to empower the health and wellness of our members and our commitment to provide the best customer experience possible," said GEHA President & CEO, Arthur A. Nizza, DSW. "Raj's track record of exceeding business goals, increasing customer engagement and driving performance improvements within the health care arena is a winning combination that will benefit GEHA and our members."
Vavilala brings more than two decades of experience in senior health insurance roles to GEHA. Most recently, he served as chief marketing officer at HIQ, where he played a key role in its rapid growth to become one of the top companies transforming how consumers more easily access the Medicare Advantage product that best suits their personal needs. Prior to that, he served as senior vice president and chief marketing officer at GuideWell Connect, where he drove the sales and marketing performance of large health insurance organizations in numerous states, including Arizona, California, Florida, Pennsylvania and South Carolina.
"GEHA is greatly admired within the federal employee benefits marketplace for its uncompromising commitment to value and its track record of furthering the health of its members for more than eight decades," said Vavilala. "I am humbled and excited to contribute to an organization that plays such an important role in the lives of the dedicated Americans who serve, and have served, the agencies and armed forces we all rely on and cherish."
Earlier in his career, Vavilala also served as the vice president of marketing and sales at New York Life Insurance Company. Prior to that, he was the senior director of marketing at Blue Cross Blue Shield of Florida.

Vavilala received his master's in business administration and marketing from the T.A. Pai Management Institute in Manipal, India, and his bachelor's in business and commerce at Osmania University in Telangana, India. Together with his wife, Raj also operates a nonprofit organization that helps children with disabilities.
ABOUT GEHA
GEHA (Government Employees Health Association, Inc., pronounced G.E.H.A.) is a nonprofit member association that provides medical and dental benefits to more than 2 million federal employees and retirees, military retirees and their families. Offering one of the largest medical and dental benefit provider networks available to federal employees in the United States, GEHA empowers health and wellness by meeting its members where they are, when they need care.
GEHA has gained distinctive civic recognition by being named one of the top 100 Healthiest Workplaces in America, 2022 Corporate Partner of the Year for the Mid-America LGBT Chamber of Commerce, the 2022 Nonprofit Champion of Diversity for the Greater Kansas City Chamber of Commerce, the 2022 Truly the Best Business of the Year for Lee's Summit (Missouri) Chamber of Commerce and named a top 20 finalist for the 2022 NACD Diversity, Equity and Inclusion award. In 2022, GEHA signed the CEO Action Pledge, furthering its commitment to diversity, equity and inclusion.

Since 2021, GEHA has held exclusive naming rights to GEHA Field at Arrowhead Stadium, home to the Kansas City Chiefs.
Headquartered in Lee's Summit, Missouri, with approximately 1,600 employees, GEHA is committed to its members and their communities.
To learn more, follow us on Facebook, LinkedIn, Twitter and Instagram, and visit geha.com.
CONTACTS
Cristi Allen (GEHA) | 816-434-4472
Lisa Ketteler (GEHA) | 816-434-2508